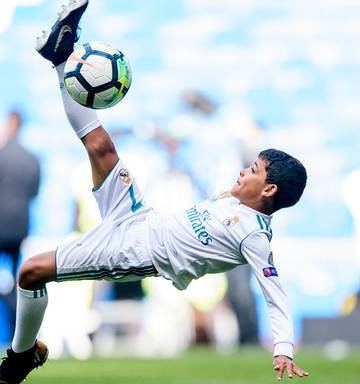 image
When you look at Cristiano Ronaldo JR's skills will start wanting your child to go what you are going because he may do it better than you.
The fact is that this kid has perfected doing wat CR7 has been doing with the football. I think he is doing what his father has been doing with the ball better than the father.
Cristiano Ronaldo CR7 has thought his kid how to train more than anyone and JR7 may the replacement to CR7.
For the first time in history, we may see a son of a very good player doing what his father used to do with the football.
This boy is really the feature of football.
He is incorporating Ronaldo skills and Messi skills.
Unless he does not develop the winning mentality like Missi or CR7 and becomes like Neymar how we all believe he was a very good player when he was young but when he became old, he has not shown us the skills he used to show us.
Watching this video I come to believe that we are not going to miss CR7.
We may see another JR7 and Messi Junior generation.
Because both kinds are really good with the ball.